Villa in Porto Cervo, PN 5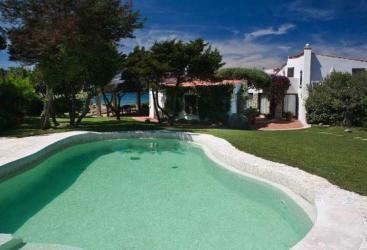 This Villa located in the beautiful and relaxing setting of Liscia di Vacca, north of Porto Cervo, this wonderful villa, on the beach, enjoyed a breathtaking view of the sea and the Archipelago of La Maddalena. The villa, built in a typical architectural style of the Costa Smeralda, finished with ceramic and terracotta flooring, wooden beams of chestnut and juniper; the wall with granite inserts. Entering to on the left, there is a charming annex built with the rocks, it finished with an wall and granite monoliths that characterize this small house, a well-designed architecture in which we have an elegant living room with kitchenette, and a master bedroom with bathroom . Recently built, the pool is located in a area well-protected by the wind on the back of the house, halfway between the main body of the house and the small house, and is entirely surrounded by a beautiful garden with flower beds and Mediterranean garden. The pool is prepared for the heating system.
The master area of the villa is situated front on the beach and is built around a small and charming central patio in the open. The villa is painted white on the outside, the ground floor has a large living room with fireplace connected to a beautiful dining area and a kitchen with separate pantry. Connected to the living room there is the master bedroom with private bath and tub. among the living room and the bedrooms to the bedroom there is a toilette for guests with tile by Cerasarda.
A scale scenic looks the central patio it leads upstairs where they find place two double rooms with bathroom and staggered of few steps another bedroom with bathroom. This whole part of the house has natural wood finishes.
The villa is completed by a large terrace - solarium on the roof with sea overlooking. The staff has a comfortable area with bathroom and laundry.
Confidential Negotiations
For information of selling this property CONTACT us on the our page and insert please the Number of Property