Villa in Porto Cervo, PN 3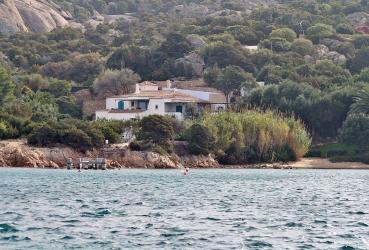 Number of Property: PN 3
Villa in Porto Cervo, Liscia di Vacca, 3
This villa is hidden among the rocks polished by the wind, adjacent to a small beach. It has thoroughly renovated according to the taste of the owner, who gave it a new identity. He has transformed the interiors, especially the sleeping area, by creating new rooms with dressing room and private bathroom. The veranda is the outside meeting point while the terraces distributed on a half-moon shape give importance to a semicircular pool. The lush garden is a haven of freshness and relaxation, an angle of true privacy. The soft white curves and the light colours of the fabrics blend with the deep blue sea and sky with the sole purpose of providing welfare for mind and body. The decor is basic with some little sin.
To love it one has to love the silence and the sea. The sea is fundamental, is an important source that lives, grows, embraces and breathes to become a storm that echoes in the soul (so said the singer Lucio Dalla).
Interiors: fully equipped kitchen, sea view master bedroom, living room, dining room and seven double bedrooms with en-suite bathrooms.
Outside: large landscaped garden sloping towards the sea, private jetty for boats up to 20 metres, barbecue area and parking for four cars.
Perfect location for those who want to live next to the sea. Available to rent and for sale.

Liscia di Vacca is an old village in an idyllic location in front of the archipelago of La Maddalena, very close to the New Marina, Porto Vecchio and the centre of Porto Cervo. In this part of the Costa Smeralda one can see the unaltered natural character of the area full of coves and beaches and rich in granite rocks that often take the shape of animals leaving free space for fantasy. The life that flows through the village of Liscia di Vacca, modern and engaging, is in harmony with the ancient natural simplicity of life and with its traditions, well represented by the old church, hidden and ready to welcome you. Here are the most unexpected and contradictory treasures, now joined by a mixture of customs and traditions: from the ancient "sheepfold" brought here by Corsican shepherds centuries ago up to the glittering nightclubs, elegant hotels, restaurants, bars and shops. At the same time there is a feeling of secret and mysterious pervading the atmosphere. Entering this unique corner of the Costa Smeralda pleasantly inspires the visitors. It even becomes deep comfort and enrichment for those who decide to live part or all of their life in an environment not necessarily linked to the trend of the moment.
Confidential Negotiations