Villa in Rome, Ardeatina, E 101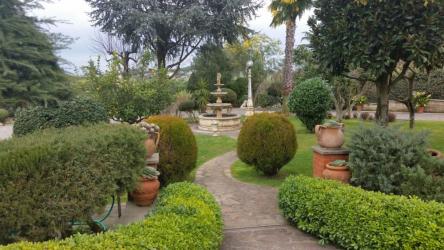 A very interesting part of an independent family house, large size, with a large park of about 3000 square meters in panoramic position FOR SALE!
The property is about 300 square meters in four levels:
The BASEMENT (which is dugged on two sides), has two external entrance and internally consists of a living room with fireplace, a little kitchen, a bathroom, a large pantry and a garage perfectly finished as the interior of the house. Outside there is a large storage room / washhouse;
The GROUND FLOOR consists of a large living room with terrace, a smaller living room and a utility room with a window, a large kitchen and a bathroom;
The FIRST FLOOR there is a hallway, three large bedrooms, one of which with a large veranda and one with a balcony and one bathroom;
The ATTIC PLAN is perfectly finished and consists of three useful rooms and a small bathroom.
All floors are connected by a large stair.
The property is accessed by a driveway gate on the main road which leads to an area paved in porphyry; from this area, a second driveway gate and a pedestrian gate leads to the large outside, a large part of it is dedicated to the green with an Italian style garden with tall trees in excellent state of preservation, various ornamental plants and even fruit trees. A large part of the outside is intended for living areas with adequate furnishings. 4 large parking spaces and room for maneuver are included, all the living areas are paved in tufa stone and porphyry.
Energy class G
Index of energy performance: ≥ 175 kWh/ m2 in year
Price: 490 000 €
Confidential Negotiations
For information and to see this Apartment CONTACTS us on the our page, be sure to by writing in the message the Number of Property